Paul Mwithiga
CEO & Founder
Africa VR Campus and Center
In 2016, I became the first African in Africa on VR and the first to host an event hosted live from Africa by an African.
I saw its potential, and founded my NGO, Africa VR Campus and Center www.africavr.org and became its CEO.
I started going to schools around Kenya to show them a peek of this technology and its potential in education.
In 2019, I networked with a lot of players in the MetaVerse industries as I hosted the 'George Floyd's death-An African Perspective' event in AltSpaceVR. That network created a Campus in Seattle which is led by my associate Tom Nickel.
In July 12 2022, I made a presentation to a Havard Community and was invited to become the first African member and still the only member of The Human Space Program.
One of the executives of Virgin Galactic which is owned by Richard Branson gave me a scholarship. I also got a scholarship by the University of Georgia, The Africa Civic Engagement Academy Programme which I completed on Dec 2022.
In 2022 December, I got approached by a company working towards the United Nation's Sustainable Development Goals where we brought in hundreds of Africans from across the continent and the whole world for a MetaVerse for SDGs programme and got a honorary mention at The United Nation's Headquarters last week, scroll to 9:25 on the Video where I'm highlighted( https://youtu.be/LQI2SrH0dI4 ) At the same time, we trained a group of girls who had just cleared high school and had no idea of how to use any form of tech.
They won the Social Impact category against girls from all over the world in The MetaVerse. https://youtu.be/QQHk865HQq8 I recorded them in the metaverse.
Our networks across the globe continue to promote us in TV interviews and blogs.
Some of them highlighted below.
Claire's interview on 13WMAZ TV Georgia, USA,- scroll video to 1:40 where we are highlighted (https://youtu.be/-mF8kj3B3Oo )
Blogs, https://link.medium.com/AREbzkdk5zb (read under 'my foreign policy-Africa.)
Facebook page where more videos and photos are posted. https://www.facebook.com/profile.php?id=100077583211674&mibextid=ZbWKwL
From my own blog site. https://link.medium.com/fFuXfXrk5zb https://link.medium.com/DWu6H9qk5zb
From Teacher Paul Simon Waiyaki Mwithiga CEO, Africa VR Campus and Center Nairobi and Seattle Campuses www.africavr.org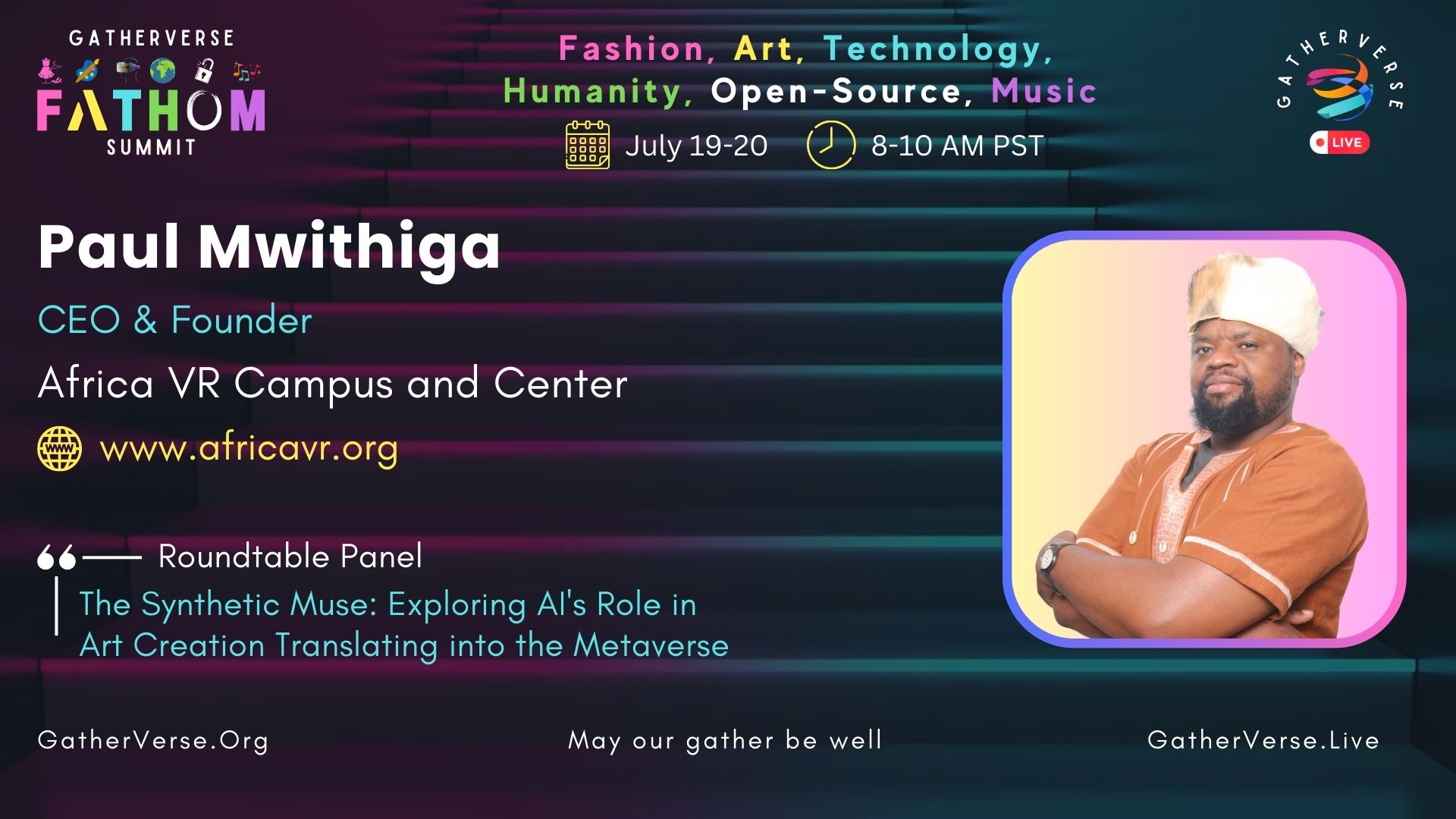 July 19-20, 2023 (A GatherVerse Event)
GatherVerse FATHOM Summit